A Brief History of the Parris Home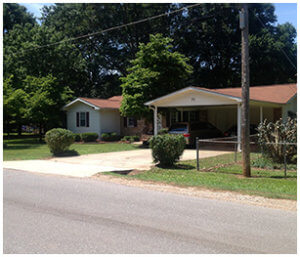 Children's Services, Inc. (CSI) was incorporated as a private, non-profit 501(c)(3) on July 16, 1970 by a group of local citizens who were interested in improving the lives of young children in the local community. The mission of the organization was to serve children and to fulfill that mission they established day care centers to serve children of low income families. The day care sites were located in four different areas of Calhoun County and they served children through the low income subsidized child care program. CSI operated the day care centers until the mid 1990's.
In 1974, the emergency shelter care program for dependent children was added to provide temporary, short term care for abused and neglected children who were in the legal custody of the Department of Human Resources. The program initially operated in the private residence of an approved foster family. In 1989, a local corporation donated funding toward the purchase of an agency home to be used as the emergency shelter. The home operated as the only emergency shelter in Calhoun County until 2002 when the home became licensed as the Parris Home for Children, a long term group home for children ages six through eighteen. This enabled the home to provide residential care for the children for as long as they needed. The home now serves children from all over the state of Alabama with preference given to children who live in Calhoun and the surrounding counties. The program operates under a service contract with the Alabama Department of Human Resources and with financial support from the United Way of East Central Alabama, The Community Foundation of Northeast Alabama, local municipalities, county commission, numerous civic organizations, local business, churches, and countless volunteers. The volunteer Board of Directors is responsible for raising a large portion of the group home budget through annual fundraising events in the local community. 
Today our vision is that every child in Northeast Alabama receives the developmental support they need to bring them the future they rightfully deserve.  Our mission is to provide children, exposed to abuse and neglect, the care and committed sense of family they deserve in the safety and security of a house they consider home.  We do this by continuing to operate the Parris Home for Children as a nurturing environment where children can feel safe and cared for while provided the level of medical and psychological health care necessary for them to work through the trauma brought on by their exposure to abuse and neglect.
We believe that a child's ability to overcome this trauma is improved when they experience the positive sense of well-being a child has when he or she is at home surrounded by family who love and care for them.  Therefore, we provide a residence that is reminiscent of the home in which they once lived.  Although most group homes are constructed as a commercial buildings with architectural styles not resembling a typical home and often located in areas zoned for business, the Parris Home is residential construction and located in a neighborhood similar to their previous home.  In addition, we strive to select staff that can offer the love and care the children desire.
We recognize that children separated from their families often have issues with trust which manifests in the outward actions of negative behaviors.  Understanding this, we ensure our staff is trained to respond to these types of behaviors so our residents do not experience additional trauma.  Studies have shown that children with set routines and expectations have more positive reactions to life conflicts than children without boundaries.  Therefore, we aim to operate the home on a set schedule and assign daily chores and tasks for all the children to participate while helping them to establish a sense of responsibility.
When the children are relocated into foster care they experience additional traumas brought on by the separation from friends and schoolmates.  We seek to involve the children in school, after school activities such as sports, and community programs such as the Boy Scouts. This helps to create a sense of connectedness that further improves the speed and effectiveness of their health and psychological care. The residents are also asked to participate can support the volunteer projects at the Parris Home so the value of giving, sharing and giving back can be a life-long value of self-sufficiency rather than only acts of surviving.