21st Annual Wine Tasting Dinner!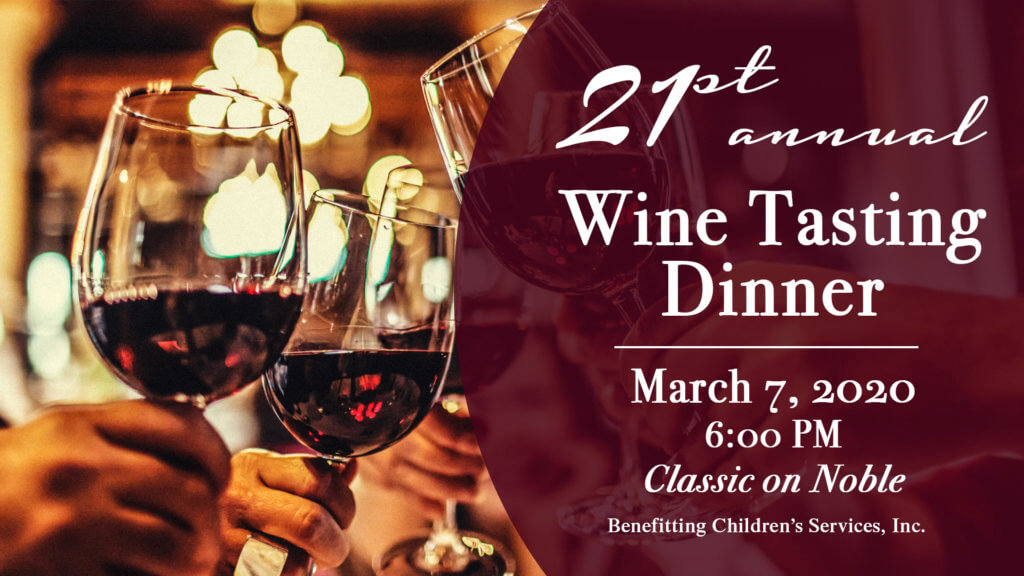 Location: Classic on Noble in Anniston, AL
Date: March 7, 2020
Times:
   – 6:00 PM – Wine Tasting & Silent Auction Review
   – 7:30 PM – 5 Course Wine Pairings & Dinner Served
Expect the same great food from our friends at Classic On Noble and fantastic wines from The Vine, Calhoun County's newest wine store, owned and operated by Garfrerick's Cafe and Catering. 

We will have both silent and live auctions. 

Call or text Laura Fuller at (256) 282-0990 for tickets, email us at info@childrensservicesinc.org, or purchase using the form below. 
Reservations are required, tickets will not be sold at the door.
Admits one person into the event.

Platinum Level Sponsorship

$2,000

Platinum Level Sponsorship for the 2020 Wine Tasting Event is exclusive and offers the highest level of visibility and recognition and includes 10 tickets to the event. As a Platinum sponsor, you will be prominently displayed as such prior and during the event, on our video, website and other marketing materials. Each Platinum Sponsor attendee will also receive a complimentary gift during the event. In addition, Platinum Sponsor will be displayed on the homepage of our website for 1 year.

Gold Level Sponsorship

$1,000

Gold Sponsorship includes 8 Tickets to the dinner and name and/or logo prominently displayed throughout the event's signage, noted as Gold Sponsor. Each Gold Sponsor attendee will also receive a complimentary gift. In addition, your name will be listed on our website as gold sponsor for 1 year.

Children's Services, Inc. is a 501(c)(3) not for profit agency. All contributions go directly for the operation of the Parris Home. 
The agency administrative rate is less than 1%.

Contributions are tax deductible to the extent allowed by law.